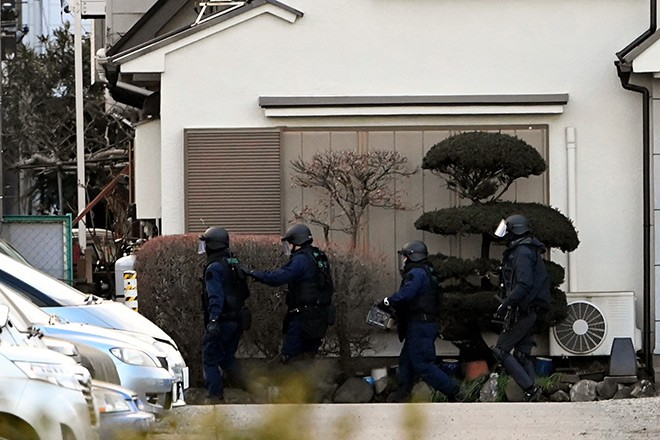 Police: Saitama gunman kills doctor after mother's death
A man with a shotgun takes a doctor hostage in Fujimino, Saitama prefecture on January 28. (Sequence by Masahiko Endo)
FUJIMINO, Saitama Prefecture – A man distraught over the death of his mother shot and killed a doctor he had taken hostage and injured two other health workers here, police said Jan. 28.
Hiroshi Watanabe, 66, was arrested after Saitama prefectural police stormed his home around 8 a.m. on January 28 and ended the 11 a.m. hostage crisis. He was initially charged with attempted murder.
Junichi Suzuki, 44, died after Watanabe shot him with a shotgun, police said. A 41-year-old physiotherapist was shot near the chest and injured.
The third worker, who is in his 30s, suffered injuries around his eye but managed to reach the Higashi-Iruma police station.
"We got in trouble and he used tear gas on me," he said, as quoted by police.
The three worked at a clinic that provides medical care to patients who cannot see a doctor for treatment. Watanabe's mother was one of their patients.
According to investigative sources, Watanabe had asked the three men to come to his house to pay respects to his late mother.
The city's fire department received an emergency call around 9:15 p.m. on January 27 from an individual who said, "A man just shot my two co-workers.
Police spoke with Watanabe on the phone during the hostage crisis.
"I am angry with them because of their care," police quoted Watanabe as saying. "I want you to rescue the hostage."
Watanabe's house is located in a residential area about 2 kilometers southwest of Fujimino Station on the Tobu Tojo Line.
Suzuki treated about 300 patients at home, or about 80 percent of those patients in the three municipalities of Fujimi, Fujimino and Miyoshi, according to the Higashi-Iruma Physicians Association.